On 20th November, Mino (a member of the group WINNER) released the track list for his upcoming album 'XX'. This is his first solo album. However, he has released individual singles in the past.
The track list includes 12 songs: 'Trigger', the title song 'Fiance', 'Hope' (featuring Yoo Byung Jae), '02′, 'Rocket', 'Um…' (featuring Blue.D, 'Lonely'), 'Aurora', 'her', 'Agree', 'Bow-Wow' (featuring YDG) and 'Alarm'.
FIND THE TRACK LIST HERE: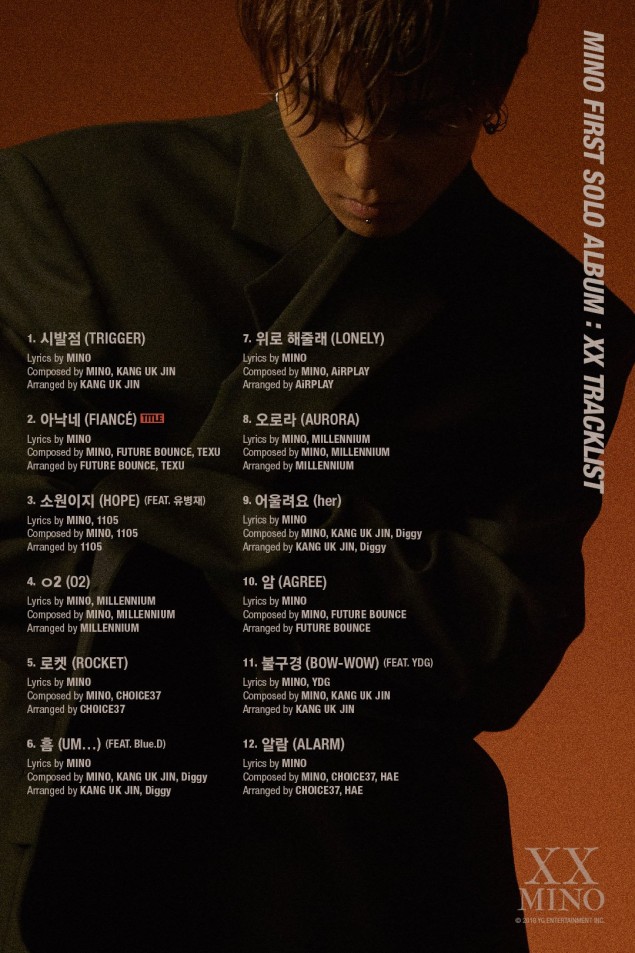 The album releases on 26th November, KST. The fans seem extremely excited for this album because not only did Mino collaborate with a variety of artists for some songs, but he also composed and wrote all the songs in the album.
What do you think about Mino's track list? Let us know in the comments below.
Stay tuned to Officially Kmusic for more updates.
Source (1)
Written by Shika
Edited by Lindsay
How does this post make you feel?
Comments
comments