Over a year since the conclusion of their first U.S. fanmeeting tour, "AB New Arena," AB6IX will be returning as part of their first official world tour, "The Future." The tour first began in Seoul, before moving to Macau, Japan, and Thailand, and will conclude with their U.S. leg of the tour, stopping in six cities across the country. The U.S. tour kicks off in November in Chicago, before going full circle and stopping by the east and gulf coasts before concluding on the west coast in Los Angeles.
AB6IX consists of four members: Kim Dong-Hyun, Lee Dae-hwi, Jung Woong, and Park Woo-jin all whom were introduced in MNET's "Produce 101 Season 2" survival show. Woojin and Daehwi debuted in the temporary project group WANNA ONE, while Dong Hyun debuted in the two-member subunit MXM with former member Lim Youngmin. They made their group debut as AB6IX in 2019 with the release of their first EP, "B:COMPLETE,", which credits all members in the production of the album. They were set to embark on their first world tour, "6IXENSE," that same year, but the tour was cut short due to the health concerns with the rise in the COVID-19 pandemic.
Most recent release "The Future is Ours: Lost" is their seventh EP following the release of their 2022 EP "Take A Chance."
Concert tickets are still available for purchase through Brand New Music's official ticket provider, kpoptickets.com. 
Written By Kortney Kendall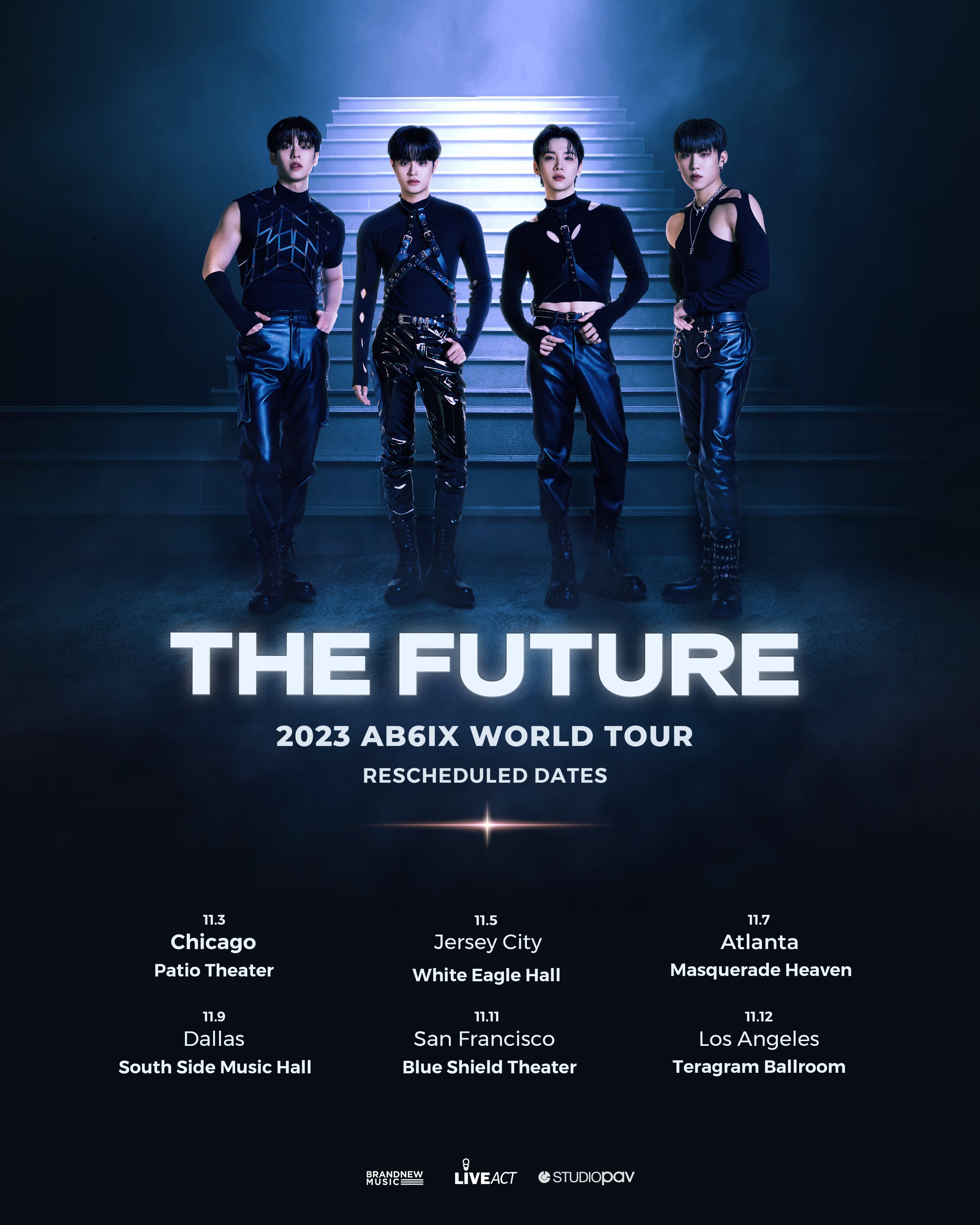 Nov. 3 – CHICAGO, IL – Patio Theater
Nov. 5 – JERSEY CITY, NJ – White Eagle Hall
Nov. 7 – ATLANTA, GA – Masquerade Heaven
Nov. 9 – DALLAS, TX – South Side Music Hall
Nov. 11 – SAN FRANCISCO, CA – Blue Shield Theater
Nov. 13 – LOS ANGELES, CA – Teragram Ballroom
How does this post make you feel?
Comments
comments