For the first time since his debut, WOODZ will be embarking on a solo U.S. tour. As part of his OO-LI AND World Tour, the solo singer will make his way to the west coast first, kicking off his tour in Los Angeles, before heading east to wrap up in New York. The tour will start at the end of November, and span through to the middle of December.
WOODZ is known now as a soloist, but he originally debuted in 2014 with the boy group UNIQ. Although the group went on an indefinite hiatus in 2018, the singer has continued to stay active in the entertainment industry. In late 2015, the singer also formed a musical collective with friends Jamie Park, producer Nathan, Pentagon's Kino, SEVENTEEN's Vernon, and guitarist Hoho, known as M.O.L.A. In 2016, WOODZ participated in the rap competition show Show Me the Money 5, and shortly afterwards, made his solo debut as Luizy with the song "Recipe." Throughout 2017 and 2018, he continued to produce and write music for various artists and shows, taking on the moniker WOODZ officially, and also began releasing more solo tracks such as "Pool" and "Different."
In 2019, WOODZ participated in Mnet's competition survival show, Produce X 101, where he placed fifth place and debuted with the temporary group X1. Unfortunately, the group faced an early disbandment in 2020, and the singer once again focused back on his solo releases. In 2020, WOODZ released his first EP, Equal, with lead single "Love Me Harder," and his second EP, Woops!, with lead single "Bump Bump." In 2021, the singer released a single album, Set, with the single "Feel Like," as well as his third EP, Only Lovers Left, with title tracks "Kiss of Fire" and "Waiting." In 2022, he released his fourth EP, Colorful Trauma, with title track "I Hate You," as his final project with Yuehua Entertainment. Most recently, WOODZ released his fifth EP, OO-LI, in April of this year, with title track "Journey." This EP is the singer's first release with his new management company, EDAM Entertainment.
Written & Edited By Ephney Tsai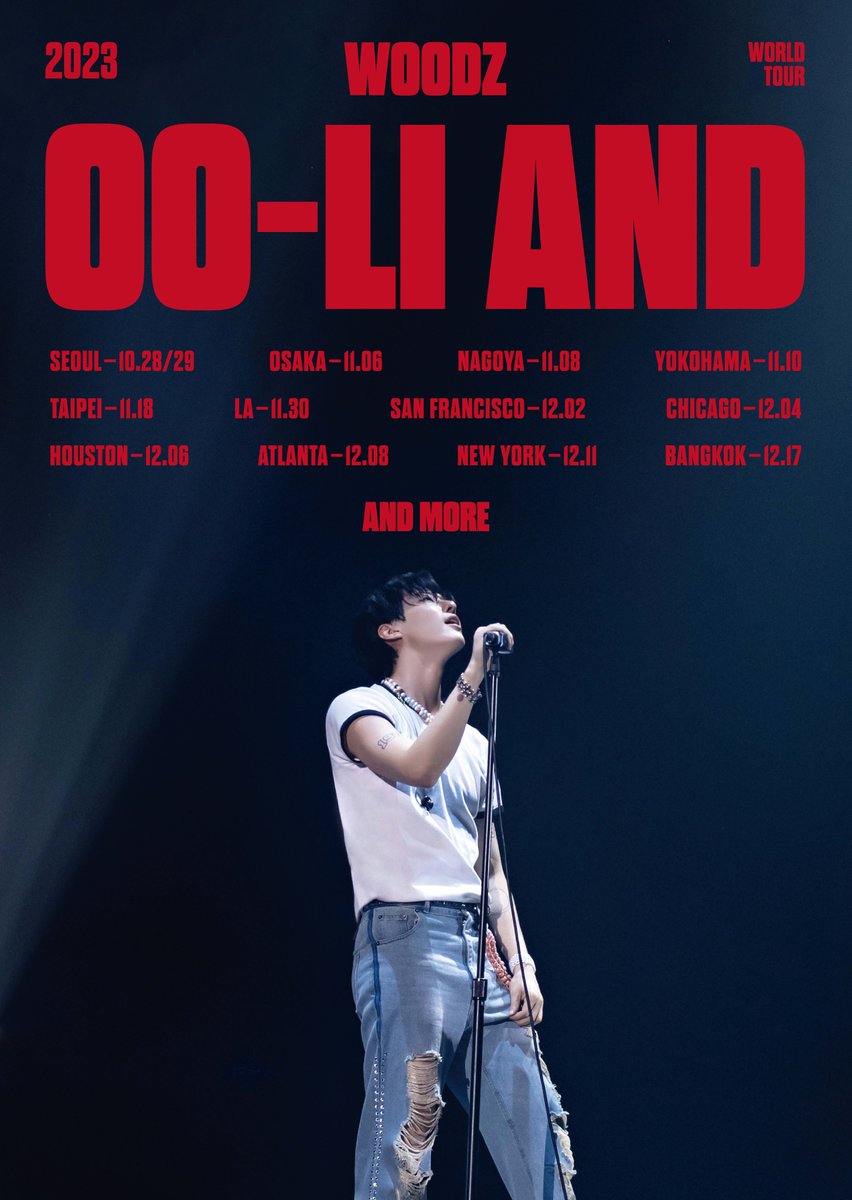 U.S. Tour Dates
Nov. 30 — Los Angeles, CA — TBA
Dec. 2 — San Francisco, CA — TBA
Dec. 4 — Chicago, IL — TBA
Dec. 6 — Houston, TX — TBA
Dec. 8 — Atlanta, GA — TBA
Dec. 11 — New York, NY — TBA
How does this post make you feel?
Comments
comments