JYJ adds a valuable memory to their history by adding another charity event into their social activity list.
Last August, JYJ trio once again held their special fan event titled, "JYJ Membership Week," for the year 2015, which allowed the artists to interact with fans and have a great time. They also exhibited and auctioned rare collection of photos from their last six years, at Seoul Art Gallery. The total proceed of the auction turned out to a total of 60 million won, according to C-JeS Entertainment.
As per members' wishes, all earnings have been donated to various theater companies and welfare organizations; 5 million won each for six theatre troupes, winter shoes donated to Sungaewon Orphanage, rice and groceries were donated to elderly residential facilities and hospitals, whilst Seoul National University Children's Hospital was donated 10 million won to be used for patients who cannot afford their expenses for surgeries.
Here are some captions from the event.
However, this year the event missed Jaejoong, as he is currently involved in his military services. He enlisted on 31st March 2015, and will be discharged from services on 30th December, 2016.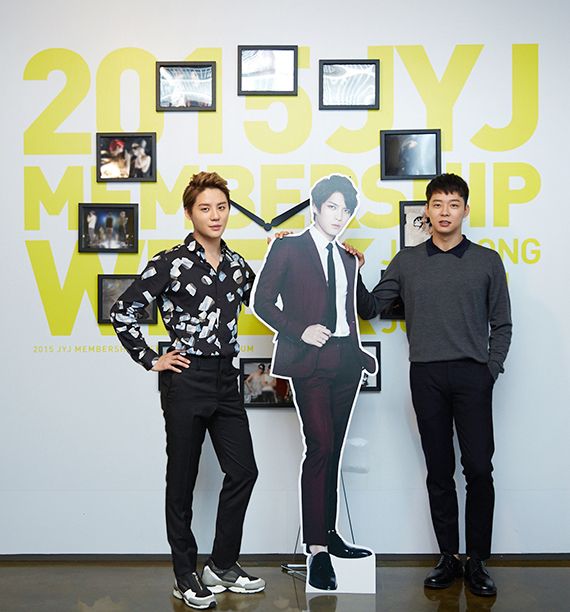 Jaejoong, Yoochun, and Junsu, former members of TVXQ, formed the trio JYJ in the year 2010. Not only do they give a new face to the music but they give loads of love and care to their fans, connecting with them through music and other various ways. Their warmth and love has no boundary, and also extends to society. This meaningful annual event began in 2012.
Let's wish all the best for these beautiful artists for this coming up year, and let's look forward for more events and music from them with hearts full of love and support.
Stay with Officially Kmusic to know more about wonderful events from the Korean entertainment world.
Edited by: Laura Dees
How does this post make you feel?
Comments
comments

<!-comments-button-->