For those knowledgeable in Greek Mythology, you would know Sisyphus was a devious and deceitful god banished to the underworld where he'd endlessly attempt to push a boulder up a steep hill, only for it to be cursed to roll back down, leaving the fallen deity stuck in the valley with the pointless non-yielding chore. In summary, when I was watching through this drama, that's what it felt like.
K-Dramas have dramatically increased their popularity by folds in recent years due to the flow-on effects of the Hallyu Wave and while most are decent depending on the type of viewer, labelled as TV network 'JTBC's 10th Anniversary Special Drama', Sisyphus: The Myth (known simply as Sisyphus on Netflix) falls short in delivering its core concepts. There are noteworthy aspects to discuss so let's start with those. Keep in mind, this review will go through MANY SPOILERS of the drama, so for those who haven't watched it, skip to the conclusion at the bottom of this review.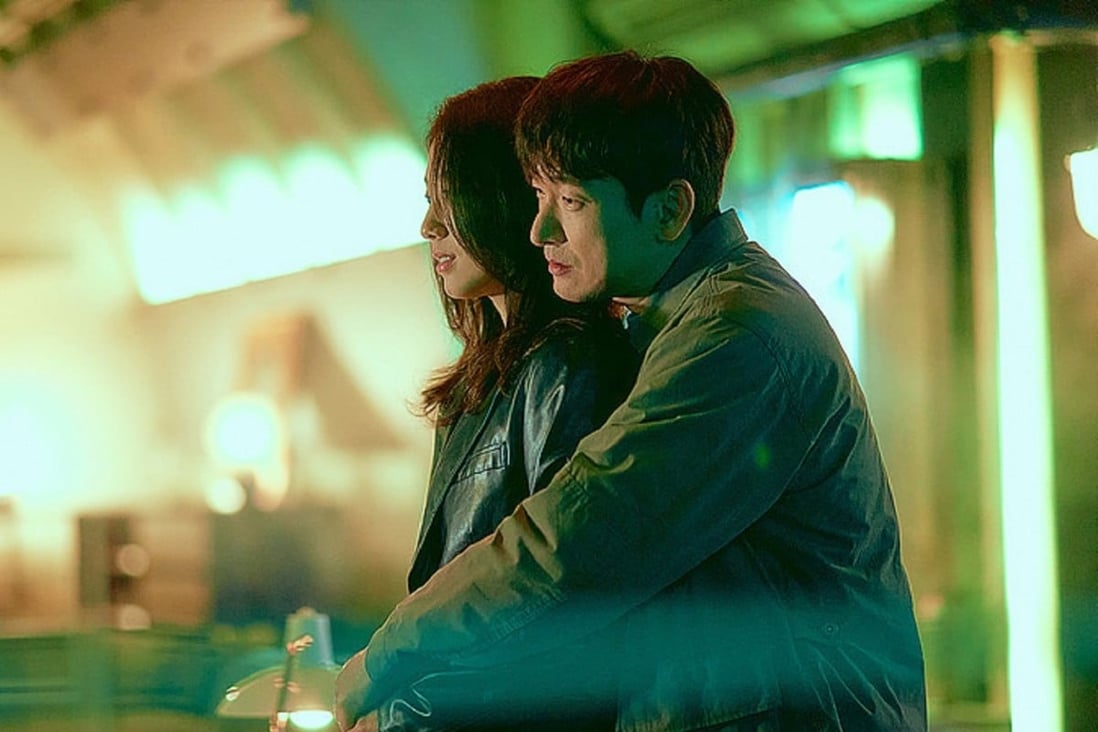 Acting
Starring popular A-listers Cho Seung-woo (From dramas such as Stranger, Stranger 2, now playing the role as Taesul) and Park Shin-hye (Pinocchio, The Heirs, Memories of Alhambra, playing the role as Seohae), the sci-fi thriller romance show's premise put in basic terms are that Seohae, living in a desolate world, time-travels to the past to prevent a nuclear war from erupting, destroying the entirety of South Korea, while Taesul is trying to uncover the truth of the mysterious disappearance of his brother. The acting here is solid as expected. Some people may have differing opinions particularly on Shin-hye's casting however they play their roles (with what they've been given) effectively to convey the true feelings of each character and they don't detract from the viewing experience. Fans of either stars will enjoy their time watching them immerse themselves here.
Cinematography
Tipping an estimated cost of around $20 billion Korean Won, Sisyphus becomes one of the most expensive K-Dramas produced. So it's no question that the shots and scenery are amazing. I'm no cameraman but as the drama tells its tale between two time periods; the present and the future, we see wide-panning shots of derelict cityscapes and abandoned facilities and attractions, painting us a bleak picture if Seohae fails to achieve her goal. Sci-fi aspects such as the massive machine that is the uploader, and the gadget filled residence of Taesul, as well as an impressive intro scene of a plane falling from the sky further display the show's muscles in moolah. The CGI could be improved, especially in earlier episodes however it isn't too noticeable as the drama moves into its middle and finale.
Moving onto the script, it certainly has a rich backstory. It was originally drafted as 20 episodes (published as 16) five years ago in 2016 to air on SBS, but was ultimately halted due to casting difficulties. Following a non-payment from SBS for writing episodes of the 2018 melodrama Fates & Furies, the scriptwriters terminated their contract with the broadcaster and brought their script of Sisyphus to JTBC by which SBS sued and lost. If a broadcaster as large as SBS is willing to fight for the script, you would think it must be a stellar story. And this is where the drama falls apart….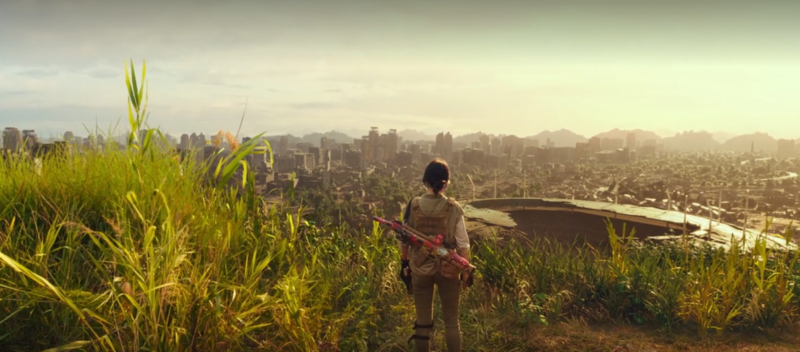 Pacing
Starting with the pacing, the snail's pace plot feels like punishment. For the first half of the drama, it seems filled with endless chases away from the villains, and whilst the action is good, it gets repetitive quickly with the leads getting away every time. The drama would have better suited a 12-episode format in its current state because much of the action whether that be in the present, or future is filler. Although the action in the future is a lot more raw, and gives viewers a true sense of the gloom broken down societal hierarchy determined by weapons, the later fights clearly went on for too long to capture and keep attention, especially since we know that everyone survives to trigger Seohae to be able to enter the time-travel machine to travel back. The actual plot, consisting of the important events that happen to move the story forward could have been condensed. This leads to the next point…
Characters
Whilst Taesul's characterisation is developed early on being a slightly snobby young genius inventor in technology and owning one of the largest companies in South Korea; Seohae gets very little. We know she time travels and is from the future, but other than that there isn't much behind her. In one of the earlier episodes she mentions she likes the boy group BTS and that her favourite song is Spring Day, but it's only until much later that she acknowledges to Taesul he doesn't know much about her. Same. In the flash forwards we see her training after the nuclear war add to the post-apocalyptic atmosphere, but apart from that, we only get small mentions of her interests as her main focus we see is trying to save the world.
Seohae's character though is the least of concerns. It is the supporting characters that not necessarily bring the drama down, but feel like a missed opportunity. As the two actors aforementioned are the only leads in the drama, every other character gets little screen time and development. For example the Asia Mart team, although we get a compelling story at the end for the leader of the team (Sung Dong-il) and Bing Bing (Lee Si-woo), the rest of the drama has the four members feel like plot devices. That goes for the supposed second male lead too, Sun (Chae Jong-hyup), who falls head over heels for Seohae after one encounter and devotes his whole life to her. Whilst being perfectly good eye candy, I feel he could've been incorporated more into the plot, and the main cast could have been him with the other leads as a trio to fight against the villains. Him simply placed as a longing second lead felt underutilised as a character and only served him as yet another plot device for events to occur.
Our other main character, the secret identity villain, Sigma is only revealed halfway through the drama. With childhood trauma damaging many K-Drama villains, he serves a decent enough enemy to fight against. His complex but cunning backstory is detailed as he speaks of his motivations to his actions and the actor playing him (Kim Byung-chul is well-known for portraying such villainous roles such as in dramas like Sky Castle).
Taesul's brother, Taesan (Heo Joon-seok), seemingly plays an important role when we get introduced to him in episode 1. Even though he is a crucial character in a few of the earlier episodes, he disappears from plot soon after and returns as a potential sacrifice for Taesul. Again, the writers could have integrated him more into the plot rather than drop him out because we see him in flashbacks of when Taesul was younger, but we rarely get any interactions between the siblings in the present timeline. The drama puts a great focus on Taesul's regret towards how he treated his older brother but all we get is a small clip in one episode when they are together.
The people within Taesul's company, Quantum & Time, and staff at the Control Bureau honestly have little to add to the story. Playing a relatively minimal role with the execption of a couple characters such as Seungbok (Tae In-ho) and Seojin (Jung Hye-in) (who have an unwarranted romance plot). The Control Bureau especially were made out to be a fully-funded powerful force not to be reckoned with, but after numerous failed tries to capture our leads, despite having the best equipment, it's pretty safe to say they were useless and were only there to be viewed as "threatening".
Overall, the show could honestly have expanded on these characters and spent less time on the leads. It would have created a more balanced and varied story, and let us see more detailed perspectives of people's actions to give us a fuller picture of what was going on and get watchers more invested in the drama as a whole.
Time-Travel / Editing
This is easily the show's weakest link. Combined with the slow pace and non-fleshed out characters, although the premise sounds gripping, it loses that grip as fast as butter slipping through your fingers. Every episode that came out, I hoped it would get better but it never did. The editing sometimes threw me off guard. One shot we would be in the present world, but another we would be in the future. Some of the time it was distinguishable by their surroundings, or the text that would appear indicating a different time period. However sometimes the text would not appear and it wouldn't be clear what time period we were in. This is distinctly a major issue in a sci-fi drama where one of its core focuses is time-travel. Are we in the future? The present? A completely different timeline that acts parallel to existing ones that the drama hasn't explained? We don't know. It creates many theories as to what's happening which although may add to the mystery and thriller aspect of the show, just formed waves of confusion and frustration for me and others as I was following the drama on Reddit and DramaBeans (shoutout to them for providing episode recaps). As the timelines are told simultaneously, we get a sense of Seohae's journey to the uploader, then post-uploader when she attempts to save everyone. But the lines could be drawn clearer.
An example of this is that many episodes don't begin with the ending scene of the previous one, so sometimes viewers are left completely lost as to whether events had already happened in between, or if they travelled elsewhere. Only after a good few minutes or sometimes up to half an hour does the drama catch up to its previous cliffhanger. With the later episodes giving a larger prominence to Seohae's expedition to the uploader, it might have been better to split the episode into two separate story arcs and leave two cliffhangers, like what TVN's 2017 Sci-fi Circle: Two Worlds Connected did in every episode.
Science fiction shows generally require a suspension of belief because some things may happen due to the fantastical elements of the premise. That's what qualifies it to be categorised under the sci-fi genre. But, executing a time-travel show requires a thoroughly explained basis of the rules of time-travel in any given show and how it operates in that world. Viewers can then form an understanding and make informed predictions/assumptions of what consequences may or may not occur through the drama's run as events unfold. But here, they explain how time-travel is possible, but don't establish the ground rules well enough for us to know the boundaries till it's too little too late. What you end up with is a drama that plays with its concept however it pleases, bringing on events that play through to advance the plot, whilst viewers are dragged along for the ride and just have to assume it is due to the sci-fi nature of the show. It once again turns viewers baffled as to what's occurring on-screen and dejects the enjoyment of watching.
By extension, logic in the common sense is thrown out of the window. For example, a scene in the penultimate episode shows how Sigma survived the nuclear explosion that broke out the war; by sealing his windows with tape. I don't know about you, but pretty sure there isn't a tape out there that can sustain and hold an explosion that obliterates a city to toxic ashes.
Romance / Comedy Aspects
As stated above, the poor attempt and fit of Sun's character did not bode well to create a love triangle, it never felt there was one in the first place. People may have varying opinions on this but the romance that develops throughout the series felt slightly forced. Watching a flash forward in one of the starting episodes showed the two getting married, which sets up the watcher to expect a budding romance in the rough. But although the two actors play to their strengths portraying their respective roles, the chemistry felt lacking.
The behind the scenes clips show the two getting along fine but in the drama, whether it be the comparatively serious tone and subject matter, or the look of either of their faces, they didn't click together well. It felt more like an uncle / daughter type relationship (despite Seohae also having many scenes with her father). It's not about the age gap between the actors (10 years) because there are plenty of successful dramas with larger age gaps such as Goblin (as debated their pairing was too) and Mr Sunshine.
Similarly, the thrilling tone did not help the show's attempt at humour. The light-hearted style of jokes shown sporadically often interjected with the event currently happening on-screen. An example within the finale was when the two leads after defeating Sigma arrive at the uploader, and whilst Teasul configures the machine into operation, they bicker about Taesul lying to Seohae about not telling her everything in his plan. It's supposed to be funny and show the chemistry between the leads however in a time like this when they're still in a precarious position on a time crunch, the timing couldn't be any worse and the whole sequence felt jarring. It's rarer for K-Dramas to merge darker themes and thrillers with comedy but it's certainly been done before and executed well for example with TVN's 2019 thriller Psychopath Diary, which although equally shocking, felt in line with the hilariously clumsy male lead. If Sisyphyus were to include comedy, there would have to be another lighter consistent element that would allow it to mesh well with the rest of the series.
It really makes you wonder what the original script back in 2016 was when it was first slated as a 20-episode show to warrant SBS suing to keep it. Maybe the story was more fleshed out with further explanations; we'll never know its potential.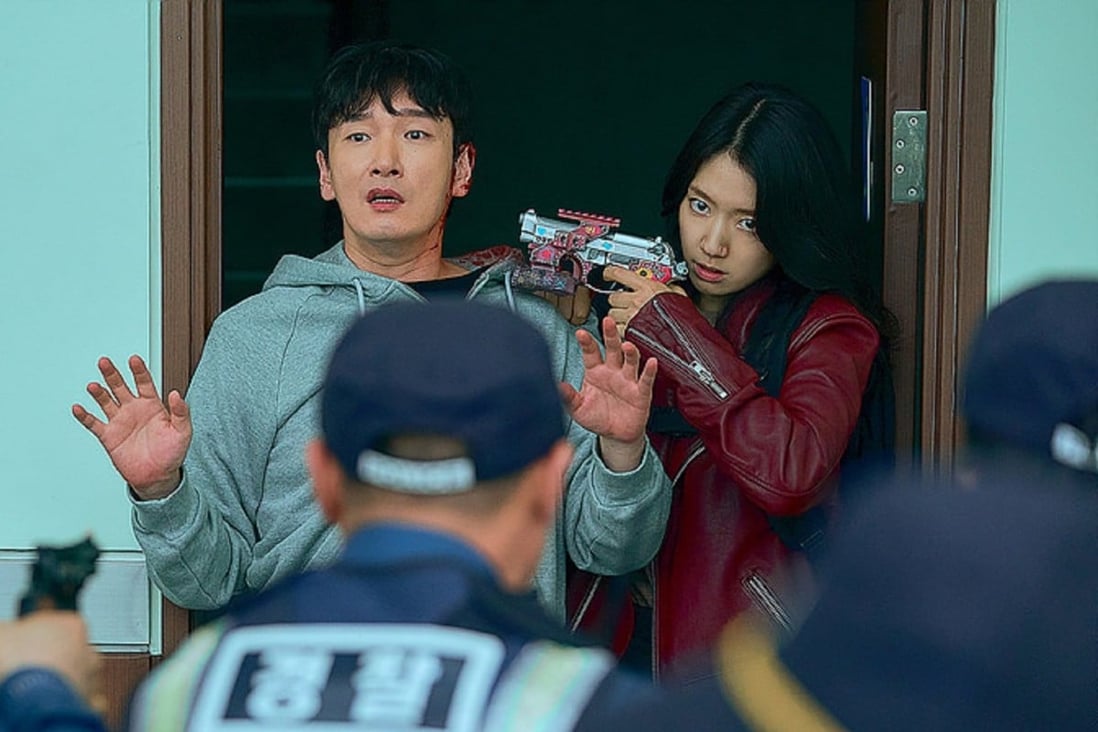 Conclusion
If you're a fan of Cho Seungwoo or Park Shin-hye, no one's stopping you from watching this. They individually play well into their (limited) roles they were given. The cinematography too is great, minus a minor slip up in the CGI. There are much better Sci-fi shows out there such as the aforementioned Circle: Two Worlds Connected or KBS' Are you Human?; and for a drama that was insanely hyped up by JTBC and its massive budget, it couldn't help this convoluted story. From its crawling pace, to the unexplained sci-fi elements, a lacklustre romance, relatively undeveloped characters, though Sisyphyus: The Myth had the makings of a great drama with its premise, its execution and scriptwriting let it tumble down, just like the god.
Final Rating : 4/10
Written by Derek
Source (1) (2) (3) (4) (5) (6)
How does this post make you feel?
Comments
comments